Elektrical testing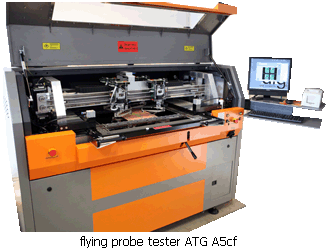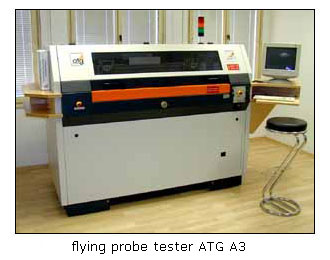 It is a device which guarantees quality for our customers. Even though over the last years the technology of production of printed circuits has noticeably improved and the error rate of the production is minimal concerning most producers of printed circuits, for the professional production of electronic devices it is necessary to ensure delivery of only the hundred-per-cent products. Since the complexity of printed circuit designs have increased, some devices used for electrical testing may already have problems with conclusiveness of the test. That's the reason why we chose one of the most modern machines – A5cf from ATG company. This machine in connection with the most sophisticated software is assurance for best quality µBGA connections and boards with blind or buried vias. A5cf is equipped with universal stretching frame that can hold both rigid and flexible boards. It has 8 high-speed testing heads and 4-camera system. Its maximum testing area is 610 x 460 mm and the smallest tested pad is 50µm. In our company, electrical testing is not only warranty for quality, but is also used for statistical monitoring of our production, stability of our processes and improving of our production yield. As a second testing machine, we use older, but also very capable machine A3 from same manufacturer.

Optical testing
In accordance with continuous efforts for our products quality increasing and faultless control of technologies, we purchased and put in operation new automated optical testing system from company Orbotech , generation Discovery. One of the best AOI systems on the market currently allows perfect inspection of PCB patern as consistent with digital PCB data. System detects and displays on the monitor any deviation form original data . Thanks to high resolution of scanning camera and optical system Discovery is capable of mistake appreciation on the objects of 45ym size. Setup of fault messaging is very flexible - system is capable te eliminate false error alarms and allows tolerance seting following quality norms. Possibility of artwork testing before serial exposure is also of great advantage.

X-RAY control
Unique system X-ray Glenbrook RTX-113 is an excellent tool for precise and fast control of registration of multilayer PCBs. Is is equipped with x-ray camera with high resolution and can therefore find defects from 0,001 inches.

technical specification RTX-113